Maurice Berger named 2018 ICP Infinity Award Winner
Awarded in Critical Writing and Research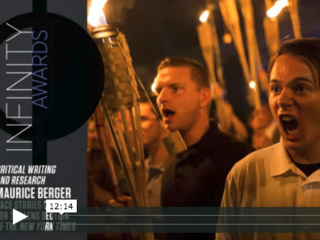 "Maurice Berger
 is a writer, cultural historian, and curator whose work focuses on the intersection of race and visual culture. He is research professor and chief curator at the Center for Art, Design, and Visual Culture at the University of Maryland, Baltimore County. Race Stories, his monthly column, for the Lens section of the
 New York Times
, explores the relationship of photography to concepts and social issues about race not usually covered in the mainstream media. His writings have appeared in 
Artforum
,
 Art in America
,
 Aperture
,
 Village Voice
,
 Brooklyn Rail
,
 Pen America
,
 Wired
, 
National Geographic
, and the 
Los Angeles Times
. His books include 
White Lies: Race and the Myths of Whiteness 
(Farrar, Straus and Giroux, 1999), a finalist for Horace Mann Bond Book Award of the W.E.B. Du Bois Institute for Afro-American Research, Harvard University, and 
For All the World to See: Visual Culture and the Struggle for Civil Rights 
(Yale, 2010). Berger has received honors and grants from the National Endowment for the Humanities, National Endowment for the Arts, Association of Art Museum Curators, International Association of Art Critics, as well as an Emmy Award nomination. For his work on 
Race Stories
, he was awarded the 2014 Creative Capital | Andy Warhol Foundation ArtsWriters Grant."